Ministry Name: 
YWAM Island Reach
Base Location:
Madagascar
Vessels Operated:
Island Reach
Types of Ministries:
Disaster Relief, Medical Care, Missions / Outreach
Areas of Operation:
Pacific Ocean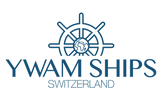 We invite you to celebrate with us the birth of a new vessel which will serve in the french speaking world around the east coast of Madagascar, Melton has been re-named Island Reach and will be transformed into a medical ship to serve unreached communities located around Tamatave, Madagascar.
On the 3rd of December 2021 we conducted a short handing over ceremony in Greenock, Scotland. The sun came out and we were blessed with a double rainbow in the sky as we celebrated together the accomplishment of the last few steps in the process.The Vine Trust had handed over ownership to YWAM Ships Switzerland!
Join our Community Site - The Crews Mess
and connect directly with other members today!
The Crews Mess - community site already has groups, forums, direct member messaging and a map showing you who is in your part of the world. With a lot more planned, so come and join the crew today!
Register for free, or give a donation if you wish, either way we are looking forward to getting to know you!
Connect, Encourage and Support
members of the Kings Fleet today!
Please send any corrections / updates / new photos to: